Remembering the Life of Fr. Jean-Yves Calvez, S.J.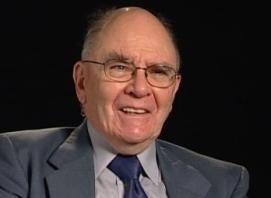 The Georgetown community recently lost a dear friend. Fr. Jean-Yves Calvez, S.J., a member of the Georgetown Board of Directors from 1997 to 2003, died in Paris on January 11, 2010. Fr. Calvez's extensive international experience and counsel contributed significantly to Georgetown's further emergence as a global university. Fr. Calvez also held the Jesuit Chair at Georgetown and served as Visiting Professor in the Department of Government in 2001- 2002. As one of the closest advisors to Superior General Pedro Arrupe from 1971 to 1983, Fr. Calvez helped guide the Society of Jesus through one of its most critical periods.
In 2006, Fr. Calvez was interviewed at length for a documentary on the Life and Legacy of Pedro Arrupe. Video clips from that interview reveal his perspective, and that of Fr. Arrupe, on topics such as Jesuit pedagogy, social justice, inculturation, and educating men and women for others.
Also included are obituary articles by two members of the Society of Jesus, Fr. Pierre de Charentenay, S.J. (in English and in the original Italian) and Fr. Andrew Hamilton, S.J.
Reflections of Jean-Yves Calvez on Jesuit Education and the Leadership of Pedro Arrupe (2006)
On September 29,2006, Fr. Jean-Yves Calvez was interviewed at Georgetown University as part of a documentary celebrating the centenary of the birth of Fr. Pedro Arrupe, S.J., Superior General of the Society of Jesus. The following four segments present Fr. Calvez reflecting on his work with Fr. Arrupe: