Martin Luther King Jr. Initiative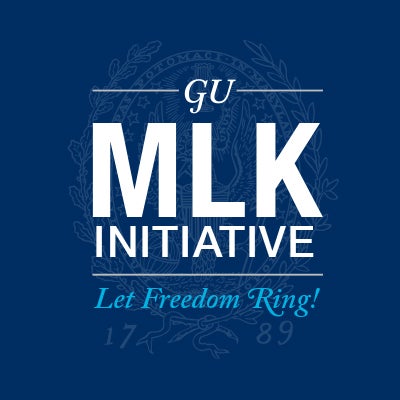 The MLK Initiative: Let Freedom Ring! invites students, faculty and staff to participate in a range of events celebrating the legacy of Dr. Martin Luther King, Jr.
Georgetown presented the 2022 John Thompson Jr. Legacy of a Dream Award to Khari Brown, chief executive officer of Capital Partners for Education (CPE). CPE is a 29-year-old nonprofit organization that mentors low-income high school and college students from the Washington, DC area toward economic mobility. Khari has served as CPE's executive director since 2001 and became CEO in 2015.
Beginning as the nonprofit's only employee, Khari has since built CPE from a niche program that reached only 50 students per year to an organization that supports 500 students and has tripled its student body over the past five years. CPE has helped its students overcome the barriers that limit most low-income students, and, under Khari's leadership, the organization has seen 61% of its graduates complete college on time, a rate that is nearly three times that of similar students nationally. Most recently, Khari co-founded the Talent for Tomorrow Alliance, a new network of five organizations that prepare local young adults for economic mobility through career preparatory and higher education programming opportunities. He is also a member of the 2021 Class of Leadership Greater Washington's signature program, an intensive 10-month program that exposes professionals to regional civic issues through education, connection and knowledge sharing.
Khari received both his bachelor's degree in American studies and master's degree in education from Tufts University. A former professional basketball player, Khari has dedicated his career to expanding educational opportunities for low-income youth. He lives in Washington, DC with his wife and two school-aged children.
Read more about the award and past recipients.
Archive
Events
Each year, Georgetown honors the enduring legacy of Dr. Martin Luther King Jr. through a series of events on campus and in the greater Washington, D.C. community that reflect the university's Jesuit values of contemplation in action, cura personalis – care of the whole person – and being women and men for others.
Sunday, March 20th, 12pm-4pm (30 min. break) – REGISTER
Honoring the Rev. Dr. Martin Luther King, Jr.'s calls to train and develop active nonviolent skills to challenge injustice, this free training focuses on effective skills for assessing, de-escalating, and diffusing harmful or inappropriate behavior (including bullying, harassment, and physical violence). Such situations may occur on a campus, in the neighborhood, on public transportation, at an event, and many other settings. This training provides participants with the tools to quickly recognize when they are bystanders, evaluate the consequences for everyone involved, and take nonviolent action in response. The training is interactive and includes multiple role-play opportunities. Learning will arise from the group's collective experiences and wisdom. Sponsored by the MLK Initiative and endorsed by the Justice and Peace Studies Program.
Each year, the Teach the Speech teach-in is convened as part of the MLK: Let Freedom Ring! initiative, and invites members of the Georgetown community to reflect on a speech by Rev. Dr. Martin Luther King, Jr. The 2022 teach-in focused on Dr. King's hallmark "I Have a Dream" speech and what it means for higher education today. The teach in included a virtual community gathering, a student reflection from Veronica Williams (C'23), and two keynotes from Virginia State Senator Jennifer McClellan and Neonu Jewell (L'04) of the African American Policy Forum, followed by a dialogue and Q&A. Teach the Speech is co-hosted by the Center for New Designs in Learning and Scholarship (CNDLS), the Center for Social Justice Research, Teaching and Service (CSJ), the Doyle Engaging Difference Program, and the Division of Student Affairs.
Featuring 2021 Legacy of a Dream Award honoree, Christopher Bradshaw, leaders and experts at the forefront of advancing racial justice participate in a virtual panel discussion on the policy development, research and grassroots advocacy efforts in D.C.'s food economy. Moderated by Adanna J. Johnson, Ph.D., Associate Vice President for Student Equity and Inclusion at Georgetown University, the panel also includes Kenyan McDuffie, Ward 5, District of Columbia Council Member and Chair of the Committee on Business and Economic Development of the District of Columbia; Yuki Kato, Ph.D., Assistant Professor of Sociology at Georgetown University and Co-Editor of A Recipe for Gentrification: Food, Power, and Resistance in the City; and Erinn Tucker, Ph.D., Faculty Director of the Global Hospitality Leadership Program and Associate Professor of the Practice at the Georgetown University School of Continuing Studies (SCS), as well as Co-Founder of DMV Black Restaurant Week.
In a 2020 event, prior recipients of the John Thompson Jr. Legacy of a Dream Award offered reflections on their mission, efforts and the leadership they provide through their organizations in the Washington, D.C. community, during a panel discussion moderated by Adanna Johnson, Ph.D., Associate Vice President for Student Equity and Inclusion. Legacy of a Dream Award honorees featured on the panel include 2017 honoree, Abel Enrique Núñez, Executive Director of the Central American Resource Center (CARECEN); 2020 honoree, Sandra Jackson, Executive Director of House of Ruth; and 2015 honoree, George Jones, Chief Executive Officer of Bread for the City.
Members of the Georgetown community share their experiences from the March on Washington and their personal interactions with Dr. Martin Luther King, Jr. during a 2014 panel discussion that includes Congresswoman Eleanor Holmes Norton (D-DC); professors Richard America and Deborah Tannen, Rev. Raymond Kemp, S.J, .and Rabbi Harold White.