2016 MLK Week of Events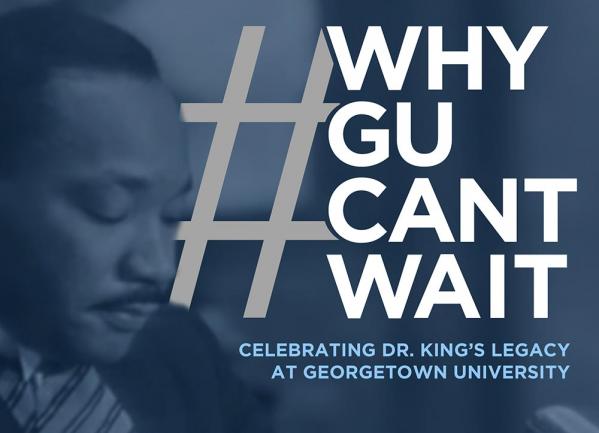 The MLK planning committee – led by co-chairs Patricia Grant, associate dean in the McDonough School of Business and Andria Wisler, executive director of the Center for Social Justice Research, Teaching and Service – invites students, faculty and staff to participate in a week of events celebrating the legacy of Dr. Martin Luther King Jr.
Ongoing
Dr. Martin Luther King and Civil Rights Movement Book Display
2nd Floor, Georgetown University Bookstore
MLK Curriculum Project
This year, Georgetown University's "Let Freedom Ring!" Initiative in celebration of Dr. Martin Luther King, Jr. will provide the opportunity to continue the conversations on campus about the university community's capacity to bring about social change. Guided by this year's theme, "Why We Can't Wait," Georgetown encourages all members of the university community to reflect on the causes that call for urgent action, as well as proposed solutions while using #WhyGUCantWait on social media.
Sunday, January 17, 2016
The Well Talks: Screening of Higher Learning
7 p.m., Healey Family Student Center Social Room
The Well Talks, a program of Campus Ministry Protestant Chaplaincy, is a space where students gather to freely talk about contemporary issues and tough topics to foster community and healing. The first Well Talks of the spring semester will take place MLK weekend and feature a screening of the film Higher Learning directed by John Singleton. The film highlights a blatant picture of racial, social, sexual and political disparities on a fictional college campus in 1995. Though Higher Learning takes place over 20 years ago, its themes are strikingly similar to those that are experienced on college campuses in contemporary society. Dinner is included. RSVP to confirm your attendance at Well Talk Screening.
Monday, January 18, 2016
Nonviolence Resistance: Direct Action Workshop
9:30 a.m.-5:30 p.m., ICC 103
Georgetown University's Program on Justice and Peace invites you to RSVP for a full-day training on nonviolent resistance, with particular emphasis on direct action. Space is limited. Register here.
Black Liberation Theology: What Is It? Where Is It Going? Featuring Rev. Akin Akinade
12:30-1:30 p.m., School of Foreign Service-Qatar campus, Room 0A12
Pizza served. Hosted by GU-Q Certificate in American Studies.
The Kennedy Center and Georgetown University Present Let Freedom Ring! featuring Yolanda Adams and the John Thompson Jr. Legacy of a Dream Award Presentation
6 p.m., John F. Kennedy Center for the Performing Arts
The program, part of the free daily performance series on the Millennium Stage, features Grammy Award-winning gospel singer Yolanda Adams and the Let Freedom Ring Choir, Music Director Rev. Nolan Williams Jr. Georgetown University will award the 14th annual John Thompson Jr. Legacy of a Dream Award to Nakeisha Neal Jones, Georgetown alumna and executive director of Public Allies DC, one of the first AmeriCorps national service programs. The nonprofit organization recognizes diverse new leaders and matches them with community organizations for 10-month apprenticeships. Through the program, participants gain new leadership skills while helping to enhance the organizations and become more active community members.
Tuesday, January 19, 2016
Panel discussion moderated by Professor Karine Walther: Should buildings named after slave owners be renamed? with student speakers Sara el Amin, Mohammad Abu Hawwash, Maher Al-Toby
12:30-1:30p.m., Georgetown-Qatar campus
Wednesday, January 20, 2016
Talk with Professor Anthony Cook: How Does our Current Racial & Political Climate Intersect with Justice Work
Noon- 1 p.m., GU Law Center, McDonough 160
GU Law Center will host its first Faith & Justice Conversation of the spring as part of MLK Week. Anthony Cook, Professor of Law and Author of The Least of These: Race, Law and Religion in American Culture, will dissect the current intersections among race, politics and the law during this hour-long discussion. Lunch will be provided.
Reflective Discussion of Dr. King's Nobel Prize Acceptance Speech and Implications for Health Equity in Medicine
Noon-1 p.m., School of Medicine, Med-Dent Building, W. Proctor Harvey Clinical Teaching Amphitheater, Ground floor lobby
Panel discussion includes Dean Dennis Williams, Associate Dean of Students at the Georgetown University Center of Multicultural Equity and Access and Dr. Susan Cheng, Sr. Associate Dean for Diversity and Inclusion Join the School of Medicine for a viewing of the Nobel Peace prize speech and interactive discussion regarding contemporary issues of equity in health care. Pizza will be provided. Please RSVP.
Interfaith Service of Remembrance and Reconciliation
7:30 p.m., Dahlgren Chapel
As the first spring event in the Year of Mercy at Georgetown, the Interfaith Service of Remembrance and Reconciliation will center on the healing power of remembrance as it relates to racial reconciliation and justice. As part of our time of prayer, we will honor the 272 enslaved human beings sold in 1838 by Presidents Mulledy and McSherry; we will also take time to remember the families of the 272 from whom they were separated, the other enslaved human beings who are a part of Georgetown's history, and others who have been denied their full humanity to this day. The prayers of remembrance will come from many of the faith traditions of our campus with a reflection offered by Georgetown alumna and Temple University professor Nyasha Junior.
Thursday, January 21, 2016
A Conversation on Social Justice and Dr. King with Georgetown University's Legacy of a Dream Awardees [POSTPONED]
3-5 p.m., Copley Formal Lounge
This event features John Thompson, Jr. Legacy of a Dream awardees from 2013 – 2016: Mary Brown, DC Promise Neighborhood Initiative; Lecester Johnson, Academy of Hope; George Jones, Bread for the City; and Nakeisha Neal Jones, DC Public Allies. Moderator Dr. Kathy Kretman of Georgetown's McCourt School for Public Policy will host the awardees in a conversation on social justice and Dr. King's enduring legacy. The panel conversation will be preceded by a capella student group performance by Resonant Essence Live! and followed by a reception.
Screening of Selma (2014) [POSTPONED]
8 p.m., SCS Auditorium
The School of Continuing Studies (SCS) will host a screening of the 2014 award-winning film, Selma. Selma chronicles Dr. King's campaign to secure equal voting rights via a historic march from Selma to Montgomery, Alabama in 1965. The critically acclaimed film was nominated for four Golden Globe Awards, and was nominated for Best Picture and won Best Original Song at the 87th Academy Awards. SCS will provide popcorn for the audience. This event has been rescheduled for Thursday, February 4, 2016 8-10:15 p.m. RSVP for the event here.
Friday, January 22, 2016
Visit the Dr. Martin Luther King, Jr. Memorial [POSTPONED]
Vans depart from CSJ (130 Poulton) – 9 a.m., 11 a.m., 1 p.m., 3 p.m.
The Let Freedom Ring! Initiative invites you to "Get off the Hilltop!" and into a Center for Social Justice van with 12 fellow Hoyas (students, faculty, and staff) to visit the Dr. King memorial near the National Mall in downtown Washington, DC. Visit nps.gov/mlkm for more information about the memorial. Weather permitting, the trip will be 2 hours total. A student/faculty/staff tour guide will accompany you to/at the site. You are invited to reflect, write, think, or pray at the memorial with fellow Hoyas. There is no cost or fee; we only ask that you "Respect the RSVP"; please only sign up if you can definitely participate, so as not to take the space away from another individual. Submit your preferred time slot via this registration form; a confirmation email will be sent to you. Groups will meet in the Center for Social Justice at 130 Poulton Hall, corner of 37th and P Streets NW.
Saturday, January 23, 2016
MLK Day of Service
9:30 a.m.-4 p.m., Commons Area in the Hariri Building
The Martin Luther King, Jr. Day of Service is taking place with an amended schedule and format. Students on campus may join us at the Hariri Building in the Commons and help us build kits for the Hypothermia Outreach Team. These kits will provide much-needed supplies for those experiencing homelessness. Breakfast will be provided. Contact MLK student coordinators with any questions.
Wednesday, January 27, 2016
Speaker on Voter Rights: Lecia Brooks, Director of Outreach at the Southern Poverty Law Center
6:30-9 p.m., Healey Family Student Center Film Screening Classroom
Lecia Brooks will take a past and present look at voting rights in the United States after a screening of Selma: The Bridge to the Ballot.
Wednesday, February 3, 2016
GUMC Interprofessional Education Experience
8:45 a.m.-4 p.m., Leavey Conference Center, Salons A-H
The Georgetown University Medical Center will convene learners from across health-care disciplines for their 3rd annual day-long conference devoted to interprofessional learning and collaboration. Nursing and health-administration students from NHS, 3rd-year medical students from the SOM, and Masters of social work students from The Catholic University of America will participate in this highly interactive event, brainstorming and problem-solving within small groups, with a focus on focus on interdisciplinary learning, health disparities and implicit bias awareness. Before the workshop, all learners will have completed online modules of the Implicit Association Test (IAT) and done advanced reading on interdisciplinary health-care teams. The featured guest speaker is Dr. Carlessia Hussein, whose office assisted in staffing the Maryland Disparities Workgroup. Dean Patricia Cloonan, Ph.D. of NHS and Dean Stephen Ray Mitchell, M.D. of the SOM will also speak, as well as role representatives from each of the professions participating in the event (e.g., nursing, administration, medicine and social work). Support for the event is provided by a gift from the Thomas R. (C'81) and Jill McGee fund, which focuses on community-based service and health disparities.
Tuesday, February 9, 2016
Why Black Doctors Matter
Lohrfink Auditorium, 5 p.m. Pre-reception with Why Black Doctors video and photo showcase; 6 p.m. panel discussion
Join the Georgetown University School of Medicine for an opportunity to engage in provocative conversation with a panel of healthcare experts representing a wide array of disciplines. The discussion will focus on ideas that help bridge cross-cultural communication gaps due to mistrust, absent cultural understanding, and variable health literacy in African American patients. Also, prior to the event join us for a showcase of Why Black Doctors video testimonials and photo gallery from students and faculty. With only 5.8 percent of medical school graduates being of African American descent, this represents an increasing problem with the growing deficit of African American doctors in our demographically changing landscape. While we can't increase the numbers of African American physicians overnight, we can help inform the current and future population of healthcare providers and affiliates by raising awareness of complex issues pertaining to African Americans, and providing a historical and social context to their healthcare concerns. This candid conversation will break down buzzwords like cultural competency in a forum that gets down to the root cause of cultural disconnects and concrete techniques on how to provide quality care for patients of African American descent. Georgetown University, Howard University, and George Washington University graduate and medical students, staff, and faculty will be in attendance. Please RSVP.
MONDAY, February 22, 2016
A Conversation on Higher Education and Race With Dr. Benjamin Reese and Lauren Reese (COL'12)
Noon-1:30 p.m., Healy Family Student Center Social Room; Lunch served.
Join a lunchtime conversation on higher education and race featuring Dr. Benjamin Reese, Vice President and Chief Diversity Officer of Duke University, and his daughter, Georgetown alumna Lauren Reese (COL'12). This event is co-hosted by Center for Social Justice, Office of Institutional Diversity, Equity & Affirmative Action (IDEAA) and the Center for New Designs in Learning and Scholarship (CNDLS).