Cultural Engagement with China

Georgetown University's global presence will be enhanced this summer when the Men's Basketball team travels to China to participate in a range of athletic, educational and cultural events. This historic trip will be the first since Coach Thompson, Jr. took the Hoyas abroad in the early 1990s. The team will depart on August 13 and return to Washington, D.C. on August 24.
The Hoyas will arrive in Beijing and spend time there before heading to Shanghai for the remainder of the trip. In each city, the team and other Georgetown leaders will meet with Chinese officials, participate in cultural and community service programs, connect with alumni and watch the Hoyas in several exhibition basketball games against the leading basketball teams in China.
Read the full press release for this historic trip here and the Associated Press story here.
The team's trip also was cited by the U.S. State Department as an excellent example of sports diplomacy. Read the full press release here.
Read up on the historical context surrounding the team's travels, and learn more about Georgetown's engagement with China, at our Hoyas In China site.
Join the Team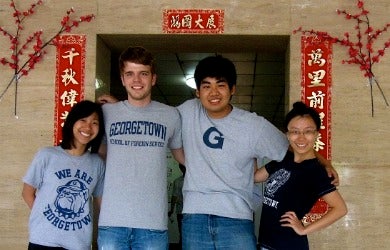 Members of our community are invited to join the team and to be part of this special experience. As fellow travelers, you will have a unique opportunity to interact with the coaches and players on the men's basketball team during the President's Receptions in Beijing and Shanghai, and to watch the Hoyas in action during four exhibition games.
You can find a full itinerary and travel details below.
For more information on travel events and logistics, please email us at HoyasInChina@georgetown.edu and a member of our travel planning team will respond as soon as possible to answer your questions and provide further information.
Travel Information
The travel party will be staying at the St. Regis Beijing and the Portman Ritz-Carlton Shanghai. We highly recommend these hotels, which you can book independently by contacting the reservation lines at (86)(10) 6460 6688 for the St. Regis and (86) (21) 6279 8888 for the Portman Ritz-Carlton, or by visiting their websites.
You also are welcome to book other hotel options and to meet the travel party at the designated departure venues for all group outings and events. We recommend working with your hotel to arrange for ground transportation from the airport.
Flights to and from China, and also between Beijing and Shanghai, should be booked independently to allow for maximum flexibility for those joining the Hoyas.
If you are a U.S. citizen, you will need to follow an easy process to obtain a Chinese visa to enable entry into China. You can find step-by-step instructions here.
Please find our tentative itinerary below. While all cultural and service options are available to all travelers, participants are not required to attend all events to be part of the travel party.
Beijing
August 14 – Men's Bball Team Arrives
August 16 – Alumni Event: Expert Panel Discussion and Reception
with President DeGioia and the Team
August 17 – Exhibition Game 1
August 18 – Exhibition Game 2
Shanghai
August 19 – Men's Bball Team Arrives
August 20 – Hoya Bball Clinic, open for viewing; Alumni Event: Expert Panel Discussion and Reception with President DeGioia and the team
August 21 – Nike Festival of Sport: Exhibition Game 3
August 23 – Nike Festival of Sport: Exhibition Game 4
August 24 – Men's Bball Team Departs China
Supporting the Hoyas in China
To members of our community who are not able to join the trip, there still will be ways to support the team.
You will be able to view exhibition games via live streaming on the web and participate in conversation through the Georgetown and Georgetown Athletics websites and social media outlets such as Facebook (@Georgetown University, @Georgetown Alumni, @Georgetown President John J. DeGioia and @Georgetown Athletics) and Twitter (@Georgetown, @georgetownhoyas and @GUAlumni).
You also can support the Hoyas through a gift to Hoya Athletics. Learn more and give directly on the Georgetown Athletics Giving site.
Related Information