Global Initiatives
Introduction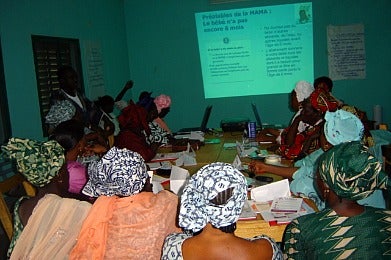 The Catholic Networks Initiative is grounded in Georgetown University's mission and tradition of developing "women and men for others." As globalization continues to pose complex new challenges, Georgetown is taking a strategic approach to developing far-reaching solutions.
In the context of our Catholic Networks Initiative, we are working with partner organizations to apply a strategic approach for strengthening health systems in Africa by encouraging linkages between Catholic health networks and public institutions. Catholic health networks play an important role in healthcare in Africa. In some countries they make up a significant portion of health service delivery, particularly in poor and hard to reach communities. By strengthening these networks' ability to function within broader health systems, Georgetown aims to help increase their ability to meet the needs of the communities they serve in a sustainable way. Our goal is to help redefine Catholic healthcare in Africa by strengthening Catholic health networks.
Our Objectives
The Catholic Networks Initiative is based on a unique and innovative partnership among three groups: the central offices of Catholic health networks in respective African countries, member health facilities that make up these networks, and our university community. The initiative's objectives reflect the diverse needs of each partner and a desire to engage all three at the core of their missions:
Strengthening Catholic health systems— the goal of the network central offices
Improving community health—the goal for each network member
Creating an innovative university response to the challenges of globalization—the goal of Georgetown University
Our strategy for meeting these objectives includes a combination of technical expertise and a unique approach informed by Georgetown's identity and history. On the technical side, our focus is on capacity building and scalability of health systems. In terms of harnessing Georgetown's unique resources, we ensure that our approach welcomes theological reflection and meaningful student engagement, strengthening and increasing the sustainability of our technical efforts.
Our Process
We apply our approach through a process that builds on the talents and expertise of our faculty leaders to scale up the successes of our pilots. In particular, one of our central faculty leaders, Dr. Victoria Jennings, has received international recognition for designing evidence-based global health programs with an emphasis on scaling up successful programs from the local to national level.
We are using this model of gradual scale up to develop a model for network capacity building that can be adapted collaboratively by other organizations. These new partners will be identified during the first five years of work with our initial center. This process ncourages a more integrated and sustainable approach to Catholic healthcare in Africa and redefines the ways in which Georgetown, as a university community, can engage and respond to the world's most critical challenges.
The Pilot Phase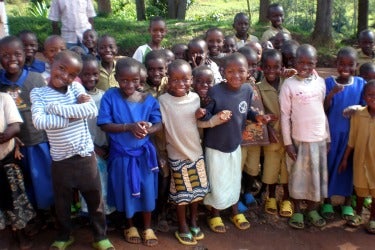 We currently are in the pilot phase of our Network Building process with our first partner, the National Catholic Health Service (NCHS) of Ghana. Located in Accra, NCHS was founded fifty years ago and provides nearly one-third of the country's healthcare in alignment with government planning. The office supports 19 diocese health systems, 32 hospitals, and 5 nursing schools and functions as an independent not-for-profit health care provider operated by the Catholic Church of Ghana.
NCHS is closely integrated with the Ghana Health Service (GHS, Ghana's national public sector health system), providing services consistent with policies and programs of the Ministry of Health. NCHS also employs a number of technical experts who engage in research and will work in partnership with us to support and disseminate best practices.
In this pilot phase, we will work to collaboratively develop and implement a sustainable capacity building program within the network organized by NCHS. Our first five years of work will focus on three technical components: organizational development, best practice sharing and leadership identification and development.
For organizational development, we will work with leaders of Ghanaian Catholic healthcare organizations to strengthen these network centers and their members to form larger/stronger Catholic organizations that engage more actively in other communities such as the public sector and non-Catholic NGOs.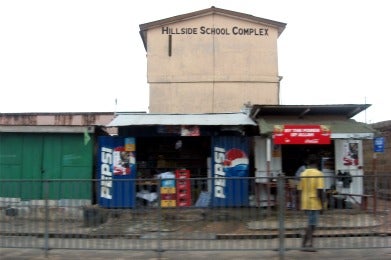 Our best practice sharing will immediately impact members' core mission of direct service to the communities they serve through the development of peer relationships. Best practices may be technical (e.g., treatment of HIV+ pregnant women pre- and post-delivery), or managerial (e.g., supervision of community based health workers.)
Finally, our leadership enhancement activities will guide network centers and their members' contribution to sustainable development.
The support that we are able to provide to NCHS will allow them to strengthen their own practices and expand their capacity and community, which in turn will lead to the network centers' increased ability to support their network members' resulting growth.
We anticipate that after Georgetown's five years of focused, technical assistance focus, the networks will have become stronger internally, and have developed stronger links with each other.
Following the pilot phase, Georgetown's role will transition. We will be able to shift our efforts towards identifying, supporting, and incorporating new Catholic healthcare networks into the community we have created, beginning the important process of scaling up.
Into the Future
The Catholic Networks Initiative is designed to develop stronger connectivity of Catholic health organizations, stronger organizational capacity to respond to future health challenges, and improved integration with local, national, and international health systems, ultimately magnifying the visibility and impact of these organizations exponentially.
Georgetown's initial technical assistance over the short term will provide the platform for long-term scalability, amplifying our efforts and impact. Our goal is to stay connected to each of the partners we support: a partnership that will strengthen our own research and teaching goals while creating a new model for global service, in line with our mission and values.